"We are watching the brutal reality of what climate scientists told us would happen". In an opinion piece in the Guardian, climate and environment editor Adam Morton makes masterfully clear what many of us are thinking these days. Mediterranean Europe and northern Africa are burning. Wildfires in at least nine countries, particularly Greece, Algeria and Italy, are killing people and wrecking lives, livelihoods and nature. They follow historic blazes in Canada a few weeks ago, which brought record-breaking air pollution to the United States. 
Other wildfires have been recorded across Europe and the Mediterranean, including blazes on the Spanish island of Gran Canaria, the Portuguese town of Cascais, the Turkish resort of Kemer, the Croatian city of Dubrovnik, the French southern mainland and Corsica, and Tunisia, according to Reuters.
This prolonged spell of heat has led to wildfires in southern Europe that have caused extensive damage. A large wildfire tearing through the Greek island of Rhodes forced thousands of tourists to flee their hotels in what Greek officials said was the largest evacuation effort in the country's history. The government said almost 20,000 people had been evacuated on the island, according to CNN. 
While fires continue to rage on the islands of Rhodes, Corfu and Evia, says BBC News, citizens in areas around central Greek cities of Volos and Lamia have been told to move to safety as the country remains in the grip of a severe heatwave. Satellite images and maps show the extent of the damage that is affecting Greece, which is one of a number of countries currently grappling with wildfires, in which more than 40 people have died. The heaviest death toll so far is in Algeria. According to the Washington Post, wildfires in Algeria have claimed the lives of at least 34 people, while a blaze near the border in neighboring Tunisia has forced the military to evacuate the town of Melloula. 
Italy between wildfires and giant hail storms
Italy, located in the climate change hotspot of the Mediterranean and surrounded by warming seas, is particularly vulnerable and is facing multiple kinds of extreme weather at once, with southern parts of the country scorched by blistering heat, while the north is battered by deadly storms, reports the CNN. In some parts of Sicily, temperatures reached 47.4 Celsius this week, edging close to the European temperature record of 48.8 degrees Celsius, set in 2021. More than 40 fires broke out in Sicily on Monday night. Wildfires also hit Apulia and Calabria regions, Sardinia, Campania and Lazio.
On the other hand, Northern Italy – Lombardy, Trentino Alto Adige, Veneto and Friuli Venezia Giulia – has been pummeled by severe weather, which has also produced tornadoes and strong winds. 100 people were injured after tennis ball-sized hail rained down in the Veneto region. On July the 19th, hail the size of large grapefruits came down near Treviso, smashing windows and damaging cars. Some of the hailstones were estimated to have been about 15 cm in diameter, has been written in the Guardian. 
The storms came after a record-hot air mass that languished over Europe. Perhaps the most impressive feat, reads the Washington Post, was the "gargantuan" hailstone which fell in Brugnera, Friuli-Venezia Giulia, which appeared almost as large as a household cleaner bottle. A rough analysis using "photogrammetry," which estimates the size/speed/position of objects based on mathematical comparisons to other objects in an image, would suggest the stone had a diameter of 7.89 inches, or about 20 centimeters. That would make it the biggest hailstone ever observed in Europe and would approach the record of 8.1 inches, which belonged to a nearly two-pound stone that fell on Vivian, S.D., on July 23, 2010.
Last week Thursday's European hail size record was broken again 😲: pic.twitter.com/t3ksiw3oTV

— ESSL (@essl_ecss) July 25, 2023
A record-breaking summer. How will we respond? 
The European Space Agency warned that this year's heatwave could be deadlier than last year's, and according to ERA5 data from the EU-funded Copernicus Climate Change Service (C3S), this July is on track to be the hottest July and the hottest month on record. 
2023 is now more likely than not to be the warmest year since records began in the mid-1800s, highlights CarbonBrief, and a study published this week found that southern Europe's heat wave would have been "virtually impossible" without climate change.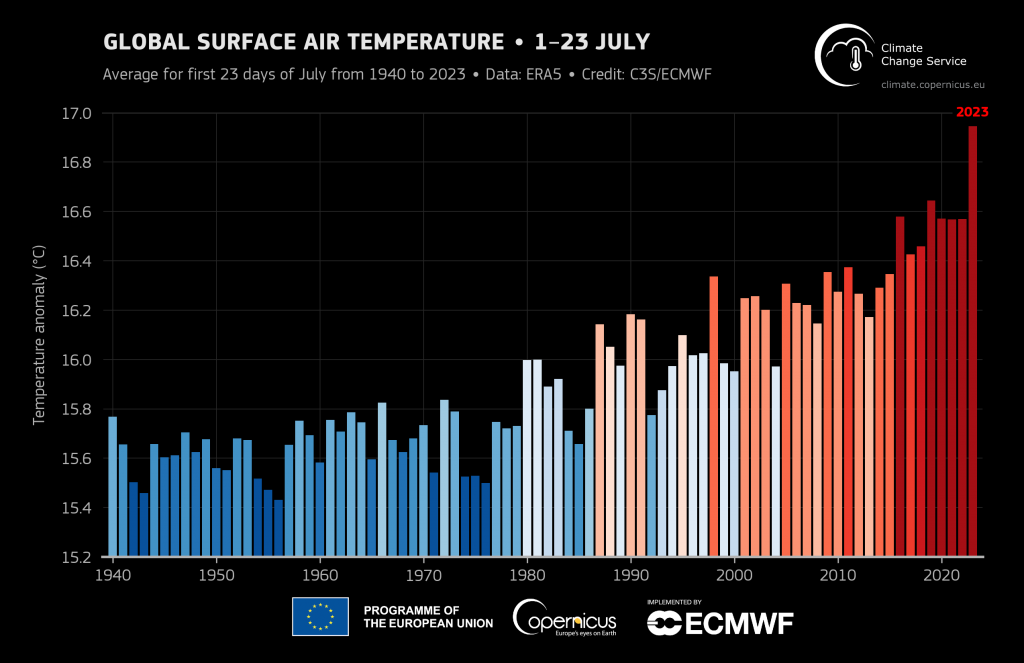 Going back to Morton's opinion piece, "this is happening when the world is, on average, about 1.2C hotter than pre-industrial times. If the temperature rise hits 2C we can expect these brutal heat waves every two-to-five years. […] A logical response to all this would be to acknowledge it is an unfolding emergency, and act accordingly. The good news from scientists is that rapid action can still make a significant difference and limit future damage. […] Alternatively, politicians could continue not delivering on the commitments made in Paris eight years ago and wait for another month as devastating as July 2023 before doing more. One thing we can say with confidence: it is likely to come around soon enough."