Back in 2012 Ellen MacArthur started promoting the circular economy idea on the sidelines of Davos. The visionary yachtswoman, using the same tenacity that allowed her to break the world record for the fastest solo circumnavigation of the globe in 2005, has since created the Ellen MacArthur Foundation which is at the forefront of efforts to create a new economic system that is restorative by design and replaces the current "linear" paradigm with a circular "closed loops" model.
At present the global economy requires 100 billion tonnes of materials per year and this amount is set to double by 2050. Historically for every 1% growth in GDP, resource usage has risen by 0.4%. This staggering amount of resource flow accounts for more than 50% of CO2 emissions in OECD countries, and hence represents a vital cog in efforts to limit global warming. 
Policymakers, particularly in Europe and China, are turning to the circular economy as a solution with which to continue economic growth whilst limiting CO2 emissions, resource use and waste generation. Likewise, business leaders also see growing opportunities in the circular model that is making ever more "business sense". At the same time, scientific research is a vital component in this process, as it can boost the implementation of a circular economy system by providing hard data and valuable insights with which to analyse the impact of circular economy policies on different sectors of the market.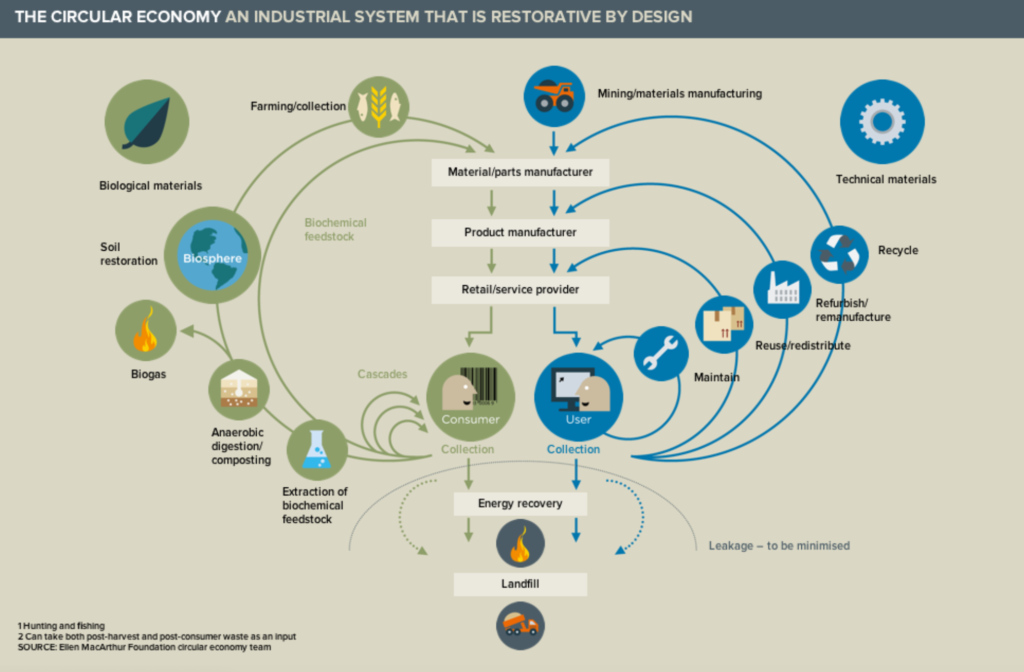 EU and Chinese policymakers leading the way
The circular economy is becoming a major talking point for policymakers as they strive to contain GHG emissions and limit global warming. The UNFCCC believes "The world can maximise chances of avoiding dangerous climate change by moving to a circular economy, thereby allowing societies to meet the goals of the Paris Agreement on Climate Action", indicating just how influential it is becoming in policy circles.
The Circularity Gap Report 2019, released by the organisation Circle Economy, emphasises the vast scope to reduce greenhouse gas emissions by applying circular principles such as re-use, re-manufacturing and re-cycling, which will require decisive policy moves for adequate implementation. However, the report also sheds light on the fact that few governments are considering circular principles when implementing policies aimed at meeting the Paris Agreement goals. 
The global economy is only 9% circular, whereby just 9% of the 92.8 billion tonnes of minerals, fossil fuels, metals and biomass that enter the economy are re-used annually. According to Circle Economy's CEO, Harald Friedl, "Governments' climate change strategies have focused on renewable energy, energy efficiency and avoiding deforestation but they have overlooked the vast potential of the circular economy. They should re-engineer supply chains all the way back to the wells, fields, mines and quarries where our resources originate so that we consume fewer raw materials. This will not only reduce emissions but also boost growth by making economies more efficient."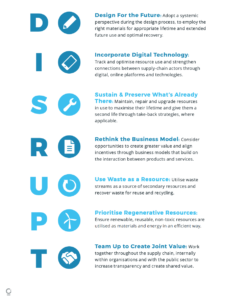 However, there are some notable exceptions to this lack of policy and government initiative. The European Union is at the forefront in this regard, having implemented its first Circular Economy Action Plan in 2015 and aiming to transform production and consumption models, addressing waste management and the market for secondary raw materials and revising legislative proposals on waste.
European policies are not just limited to waste, they also promote initiatives such as the European Circular Economy Stakeholder Platform, a virtual open space that empowers policy dialogue among stakeholders and disseminates activities, information, and good practices on the circular economy. More recently Europe has also produced a New Circular Economy Action Plan, which was announced in the new European Green Deal, and which will be outlined in the first quarter of 2020.
And the circular economy is not just a European phenomenon in policy making. The Chinese have also been in the game for over a decade. The Circular Economy Promotion Law came into force in January 2009 so as to promote sustainable development by raising resource utilization rates and increasing resource recovery in production, circulation, and consumption. Furthermore, China and the EU signed a joint Memorandum of Understanding on Circular Economy Cooperation at the 20th EU-China Summit which took place in Beijing 2018.
Business leaders see potential
The drive towards a circular economy is not just being propelled by policymakers. Businesses are also seeing potential gains from shifting to closed loop mechanisms.
Most recently, Unilever pledged to reduce the amount of plastic packaging it produces by 14% each year by 2025. Adidas has committed to almost double the number of shoes produced from recycled plastic this year to 20 million. Nestle SA has also set targets to slash packaging, and PepsiCo. are committed to cutting back extensively on non-recycled plastics in bottles. Just a few examples of how the business world is trying to come full circle.
In fact, according to Peter Lacy, author of "The Circular Economy Handbook", widespread implementation of the concept will bring a double advantage to businesses: slash costs and boost productivity. It represents a $4.5 trillion-dollar opportunity globally by 2030 and businesses are jumping on the bandwagon.
Furthermore, as consumer interest in environmentally sound business increases companies are ever more aware of their need to go green. As the industry standard shifts businesses are adhering to circular economy initiatives such as the Circular 100 network (CE100) established by the Ellen MacArthur foundation. CE100 is a pre-competitive space for companies to join together, learn, share knowledge, and put ideas into practice, capitalising on the fact that "most global businesses understand that in order to remain competitive, a circular economy must feature in their strategy."
Science and research are the catalysts
In the circular economy, growth no longer requires an increasing extraction and consumption of resources, energy, water and primary raw materials. There is less waste, and products and resources maintain their value in the economy for as long as possible. Therefore, research and science have a fundamental role to play: providing fact based knowledge that can help dictate policy and business decisions, as well as propelling technological and know-how development.
In the world of business, research and science driven tools, such as the Ellen MacArthur Foundation's Circulytics, allow companies to measure their circular progress. Beyond simply assessing products and material flows Circulytics helps reveal the extent to which a company has achieved circularity across its entire operations.
For the circular economy to achieve its full potential it will need adequate policies that promote research and development so as to establish changes in entire systems; uniting researchers, technology centres, industry and SMEs, the primary sector, entrepreneurs, users, governments and civil society.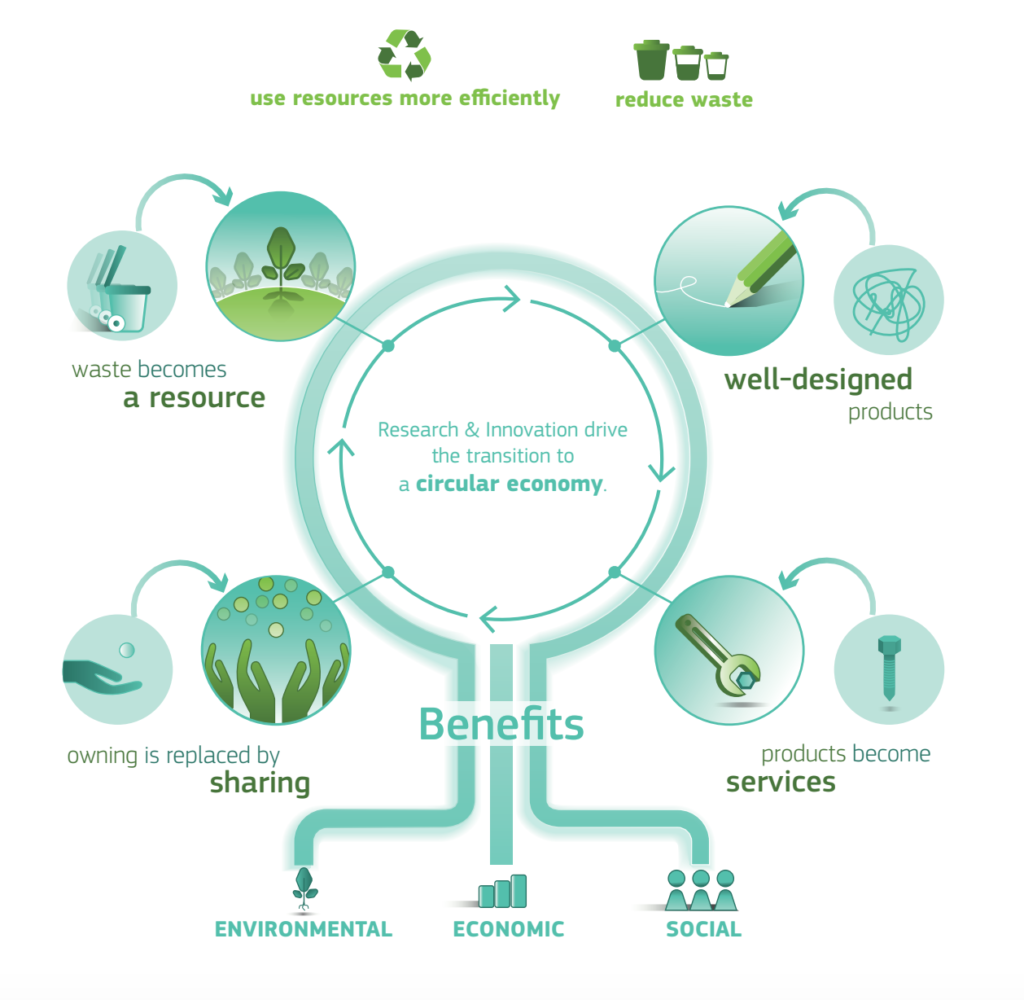 An excellent example is the role that research must take in developing decarbonisation technologies. Many of the processes that turn CO2 and other waste products into valuable building blocks are still at elementary stages of development. The EU is trying to promote research activities that "will help make the circular economy an industrial reality, and will help decarbonise industry. By making processes more efficient and sustainable, R&I will also boost European competitiveness." Examples include the field of catalysis, industrial biotechnology, waste and resource management, and closed loop manufacturing systems (to name but a few).
At The Circular Economy Coalition for Europe (CEC4Europe) "Science and Research for Circular Economy" symposium, a wide array of innovative research topics were presented. Topics presented included, the use of resources for pop-up housing environments following natural disasters or migration waves; the role of circular economy to ensure raw material supply for e-mobility in Germany; and the energetic relevance and purpose of different closing-the-loop concepts using textiles. 
The potential for research to contribute extensively to the implementation of the circular economy is a wake-up call and a clear message that if science, policy and business can come together and close the circle then a significant step towards meeting climate goals can be taken.
 "A more scientifically and fact based approach: a systematic analysis of our future raw material needs and all relevant secondary raw material sources is needed so we can achieve the common goals of the circular economy – environmental protection, securing of raw materials, economic benefit, and growth – in an effective and efficient manner, based on scientific evidence."