The COVID-19 pandemic presents a global challenge of unprecedented scale. Its dramatic social and economic impacts highlight the vulnerability of our societies and the need for more resilient socio-economic systems that are able to cope with present and future emergency situations, some of which – including the climate crisis – have already been predicted. While governments around the world are defining sound economic stimulus packages to recover from this crisis, the question is how can they boost resilience to future risks.
"We should pose two questions. The first is: was this situation predictable? And the second: were we ready for it?" observes Pietro Bertazzi, the Global Director – Policy Engagement at CDP (formerly Carbon Disclosure Project), a non-profit organisation running the global disclosure system for investors, companies, cities, states, and regions to manage their environmental impacts and take bold action on climate, water, and forests.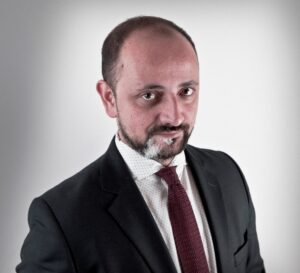 "We need to distinguish between predictability and preparedness, between what we can predict will happen and whether we are ready to tackle a given situation. The debate is still open on whether the COVID-19 pandemic is or is not a black swan type event. In a certain sense, it is. Regardless, we were definitely not prepared. When you do horizon scanning, there are many possible risks to be considered, and we did know that pandemics were one of them. But, quite frankly, we were still not prepared."
The business and investment communities have been impacted by this situation. What are the implications of this crisis on climate action?
The shutdown had a very strong impact on business and investments, with big disruption in the supply chains. And when there is such a crisis, for which we were not prepared, we are governed by fear. We should be governed by science and evidence, but we are all governed by fear. Both in policy and business decisions, this resulted in a very short-term kind of approach. We have seen a withdrawal of many environmental safeguards around the world – in the US, Brazil, Indonesia, for example – with the belief that this would accelerate economic recovery. 
If we go back to the level of horizon scanning and preparedness, we still have a climate crisis on the horizon. We know that climate-related risks are very high and that the climate crisis is a 'threat multiplier' which makes future economic shocks more likely. But we are still not prepared. And this is the moment to enhance our preparedness.
The more companies are aware of the risks and vulnerabilities in their supply chains, the better they can prepare for the next possible crisis, which could be the climate crisis.
You stress the importance of societal preparedness to face future risks looming on the horizon. How can policy act today to enhance companies' resilience to climate change, whilst at the same time addressing urgencies linked to the pandemic?
The world stands at a crossroads. It has been shaken by the Covid-19 crisis, and there is no doubt that the virus must be dealt with as an urgent priority. As the attention turns to economic recovery, it is critical that recovery is used to build the new green, sustainable and resilient economy that we need, not to prop up the old system that will leave us vulnerable to climate change. The ambitious recovery and economic stimulus packages should, and can, drive low-carbon investment at scale, boost economic growth, create jobs, reduce emissions, and increase resilience to future shocks.
We need to make companies that are requesting support by governments for economic recovery more prepared. And the more companies are aware of the risks and vulnerabilities in their supply chains, the better they can prepare for the next possible crisis, such as the looming climate crisis. The post-COVID-19 economic recovery must be linked to the analysis of environmental risks because measuring and managing environmental risks through disclosure helps companies and cities build resiliency and plan for the future. Companies can do this by reporting and disclosing how climate-related risks affect their operations. That's how, at CDP, we support companies in managing their environmental impacts. And it's important that all companies are supported in going green and building low carbon transition plans, without discriminating against those that belong to sectors that ideally won't have a future after the green transition.
While citizens around the world are experiencing a once-in-a-century public health crisis, cities are also bracing for a worsening climate crisis.
Companies that disclose their environmental and climate performance are becoming more and more appealing to investors who have a growing perception of climate change as a threat. Is the COVID-19 crisis impacting this trend or creating other incentives for disclosure?
Concern about environmental issues has grown dramatically over recent years among the public and the business world. Investors, purchasers, and end consumers increasingly expect companies to be transparent and take responsibility for their environmental impacts. The current global health crisis shows resiliency in supply chains and business models is more essential than ever. Therefore, I believe that measuring and managing risk will rise up the agenda during this crisis. The transparent sharing of reliable data is essential to managing global challenges effectively – just as this is the case for the global Covid-19 pandemic, it also applies to tackling environmental crises. 
Disclosure builds trust through transparency and helps businesses position their brands as environmentally conscious among their key stakeholders. Moreover, as governments and regulators take steps to respond to the climate crisis and related environmental challenges such as deforestation and water insecurity, more environmental legislation is likely to be on the horizon in jurisdictions around the world. Regulatory changes could include regulations on environmental reporting. Several countries (France, Netherlands, Denmark, UK, Sweden, Brazil, China, Colombia, India, Indonesia, Japan and South Africa) already have requirements for certain companies to report some level of environmental information. Companies that disclose through CDP are a step ahead of likely mandatory disclosure regulations.
Investors want to avoid getting into hot water as a result of climate change.#CDPTemperatureRatings tracks carbon emissions from across the value chain of more than 4,000 companies to help investors understand where and where not to invest: https://t.co/uwxTd4FPiL @CDP pic.twitter.com/iLDyHnBTYw

— UN Climate Change (@UNFCCC) July 7, 2020
Cities are on the frontline of both the health and climate crisis.
Disclosure of non-financial information can be considered a resiliency tool that helps not only companies but also governments and cities understand their resiliency gaps and prepare for/prevent major disruptions like the one we're experiencing now. After all, 154 global cities told CDP last year in their annual disclosure that increased prevalence and incidence of disease is a significant environmental risk for their communities. Cities that had already assessed these risks and built ways to address these immense challenges will be best positioned to weather this storm.
While citizens around the world are experiencing a once-in-a-century public health crisis, cities are also bracing for a worsening climate crisis as we approach mid-century. As they look to rebuild in the long term, they will need to be fully transparent to assess future risks.
2020 is the year for countries to bring forward enhanced emissions reduction, adaptation, and finance plans, under the terms of the Paris Agreement. Due to the pandemic, the 26th Conference of the Parties (COP26) of the UN Framework Convention on Climate Change (UNFCCC) scheduled to be held in Glasgow, Scotland, in November 2020 has been postponed by a year. Do you think this postponement will have consequences on global climate negotiations?
There are no borders when it comes to pandemics and climate change: we need global cooperation and coordination. Scaling up global climate action will be a challenge – but the good news is that we already have two frameworks in place: the Paris Agreement and the Sustainable Development Goals.
The Paris Agreement remains the best multilateral instrument to accelerate emissions reductions, ensure a just transition, and reduce the economic risks from climate change. But there is still a need for all governments to increase their ambition in setting targets to meet the Paris Agreement goals despite the current crisis. While COP26 has been rightly postponed until 2021, as the priority now is to save lives – we must ensure that we don't lose momentum on the international stage: backsliding on the Paris Agreement in the name of COVID-19 recovery will only create greater economic risk and disruption in the future. I'm personally afraid that not having this annual meeting in 2020 may delay the speedy action that is imperative at this very stage. Such a big event allows the climate change community to get together and demonstrate progress, and this year – in such a crucial year – COP is not happening.
"We cannot afford to go back to normal. We must reinvent and renew our economy into one that is more resilient, inclusive, sustainable and zero-carbon." – CDP CEO @CDP_PaulS.

We must #BuildBackBetter. Find out why: https://t.co/qPTKVSXa9k pic.twitter.com/a2IivHQDKR

— CDP (@CDP) June 24, 2020
You mentioned the Sustainable Development Goals as a roadmap for the future. What are the main consequences of this crisis on the sustainable development agenda?
COVID-19 changed what we call the "sustainability context". Actions around the 2030 Agenda must now take into consideration the current situation: the pandemic has emphasised the inequalities that were already present. This is highlighted in the 2020 SDG Progress Report of the UN Secretary-General, which explains the implications of the pandemic on each SDG.
Countries that were particularly affected and that will suffer the most from COVID-19 are the Least Developed Countries, Landlocked Developing Countries, and Small Island Developing States. And these same countries are the most affected by environmental crises, including climate change. In terms of the impact of COVID-19 on sustainable development: this crisis poses a threat to the unevenness of sustainable development in several countries because those countries don't have health systems ready to tackle this kind of crisis. Once again, it is all about preparedness.
How can the 2030 Agenda help build a way out of this situation, where the poorest keep paying the consequences of not being prepared, crisis after crisis?
For me, an opportunity comes from looking at the 2030 Agenda through the SDG16: Peace, Justice, and Strong Institutions. COVID-19 stresses the fact that we need stable societies, strong institutions, strong health systems. We need peace. We should take emerge from this crisis and strengthen all these dimensions and build more resilient societies, which will be more equitable, inclusive, and climate-friendly.