By Arthur Wyns
Arthur Wyns is part of Climate Tracker, a youth-led network of climate journalists and communicators active in 120 countries. Climate Tracker received a special mention at the Best Climate Solutions 2018 awards. Arthur is also a climate change researcher at the World Health Organization, speaker on the Don't think of a polar bear: media, news and the future of climate change panel at the International Journalism Festival in association with CMCC Foundation, and tweets from @ArthurWyns.
Communicating our era's most pressing issue where it matters most
Climate change is the defining issue of our time, it intersects with almost every aspect of our lives. From the perspective of journalism, it is therefore an issue that deserves a central place in communication with the public. Effective reporting on this multilayered issue is and will be crucial in how we tackle it and define its solutions.
Despite many barriers, that still prevent the communication of climate change from being a central part in all media organisations, reporting on the issue has rapidly increased in recent years. Active efforts are nevertheless needed to address some of the caveats that still exist in climate change reporting.
Although a global issue that affects us all, climate change is far from being a central topic in mainstream media. This reporting gap causes a discrepancy between reality and public awareness.
Climate Tracker uses three key strategies to close the climate change reporting gap. These strategies include: building reporting capacity in the Global South, breaking through journalism monopolies, and offering a voice for those most affected.
---
We create a broad and fluid network of journalists and communicators that share resources, information and opportunities. Both online and offline, this open community tries to encourage cross-border efforts and the sharing of knowledge and news.
---
Building reporting capacity to cover critical issues
The climate has been changing for decades and its impacts on our society, environment, and economy have become concerningly tangible at a global scale. Nonetheless, this issue has only recently entered mainstream media as a topic deserving of regular reporting, making it particularly hard for non-specialised journalists to cover.
Media outlets in developing countries often lack the capacity to invest in climate change reporting. Journalists are expected to cover sporting events one day, a political development the next, and climate change the following.
This leaves journalists under-equipped and underprepared to cover a complex and wide ranging issue that affects every aspect of society in a myriad of ways.
"I mainly rely on reports and press releases when covering climate," claims a young journalist from Kenya collaborating with Climate Tracker, "I simply do not have the time to go out in the field and conduct original reporting on climate change."
Despite the variety of funds, fellowships and open-source courses available to help media build capacity to cover the climate, the lack of dedicated staff members structurally limits most media outlets from investing in original climate reporting on a regular basis.
The (partial) solution Climate Tracker offers, is to create a broad and fluid network of journalists and communicators that share resources, information and opportunities. Both online and offline, this open community tries to encourage cross-border efforts and the sharing of knowledge and news. Many other such collaborative journalism networks are popping up, such as Earth Journalism Network, HostWriter and Clew Network.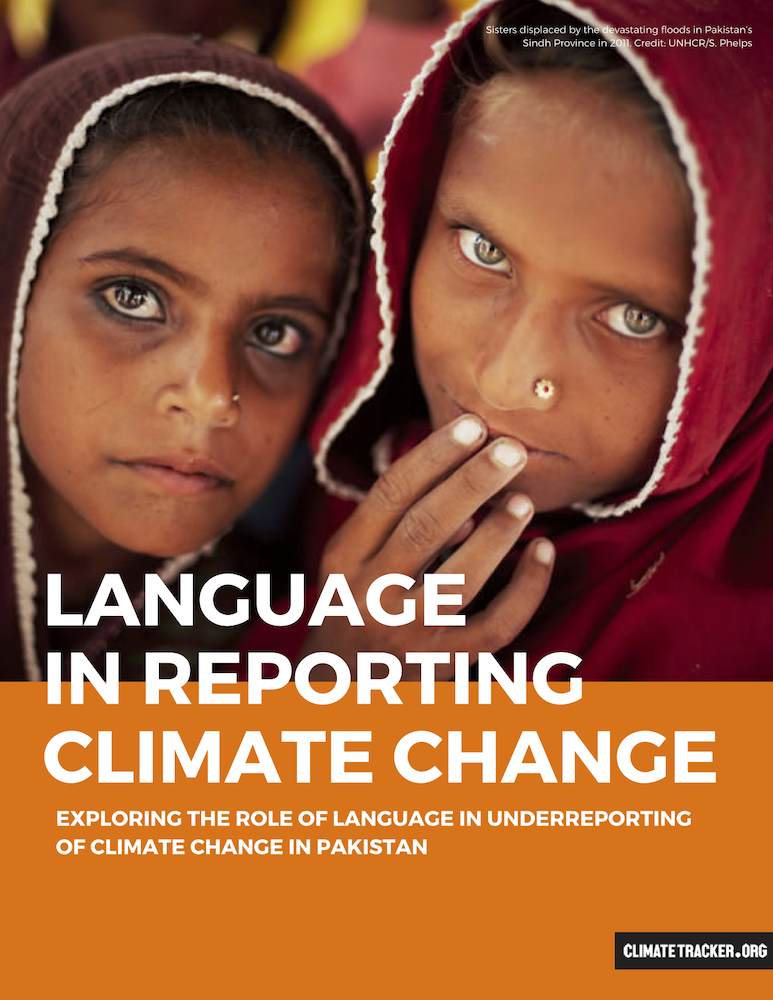 Moving away from one-size-fits-all reporting
So far, only a handful of prevalently Anglophone media outlets, such as the Guardian and the New York Times, have invested strongly in climate journalism, with most other media around the world strongly relying on their reporting.
"You can really observe the 24-hour rhythm of climate change news, starting with early morning publications in the UK, and then the US and the rest of the world strongly relying on – and often copying – this news as they start their day," explains Leo Hickman, editor-in-chief of the UK climate news site Carbon Brief.
Although often of the highest journalistic quality, the relative monopoly on climate reporting that this handful of outlets have, strongly skews the geographic and developmental focus on what is, in effect, a global story. What is important in the UK might not be in Indonesia, where it might express itself very differently or could even not be as well-known by the local public.
Local media outlets often have the advantage of being more trusted and credible than larger media companies and can reach an audience that is traditionally less aware of global issues such as climate change. Making the global-to-local connection in climate reporting can therefore be a valuable way of bridging the climate reporting gap.
Those affected should be the ones reporting on climate change
Depending on where we live, and which group we belong to, the impacts of a changing climate will affect us differently. Poorer populations are hit the hardest, particularly in less developed or developing countries. Even in highly developed countries with stable and resilient economies, it's often the poorer members of society that are most deeply affected. Women generally suffer disproportionately in comparison to men when it comes to the impacts of climate change. For young people as well, the stakes are high in the climate debate; emphasised by the recent wave of school strikes.
It is therefore peculiar to see that, although climate journalism often reports about these stakeholders, it is seldom written firsthand by those affected. Journalism is still a heavily male-dominated profession, and climate change reporting is no different, with most editors, publishers, and journalists casting a male shadow over the issue. The same discrepancy exists for reporters from the Global South, despite being the part of the world most affected by climate change. For example, reporting on cyclone Idai hitting Eastern Africa often lacked the voices and perspectives from those regions.
Those journalists and media most closely aligned with climate vulnerable groups counter this systematic bias by reporting on what isn't covered – or covered well, or covered consistently – by other media. But, more importantly, they do so by turning to the people most affected to frame their story. Voicing vulnerable groups' concerns, knowledge, and priorities when reporting on climate change benefits everyone. The easiest way to do so is by letting those affected do the talking.