After 2019 passed with a large number of extreme weather events, it is no surprise that climate change is at the forefront of concerns for 2020, growing significantly compared to those expressed in last year. The 2020 Global Risks Report's list of top risks for the likelihood of occurrence placed extreme weather, a failure to act on climate change, and natural disasters in the top three spots. Furthermore, two of the top three in terms of impact were also related directly to the environment, these being climate action failure, weapons of mass destruction and a loss of biodiversity.
Let's take a closer look at the survey's 10-year outlook which asks respondents to rate 30 pre-selected global risks according to two metrics: their likelihood and their impact.
The top five global risks in terms of likelihood all include environmental concerns in an unprecedented show of unanimity:
Extreme weather events with major damage to property, infrastructure and loss of human life
Failure of climate-change mitigation and adaptation by governments and businesses.
Human-made environmental damage and disasters, including environmental crime, such as oil spills, and radioactive contamination.
Major biodiversity loss and ecosystem collapse (terrestrial or marine) with irreversible consequences for the environment, resulting in severely depleted resources for humankind as well as industries.
Major natural disasters such as earthquakes, tsunamis, volcanic eruptions, and geomagnetic storms.
Furthermore, the top 5 risks by severity of impact also featured heavily with environmental issues:
Failure of climate change mitigation and adaptation
Weapons of mass destruction
Major biodiversity loss and ecosystem collapse
Extreme weather events (e.g. floods, storms, etc.)
Water crises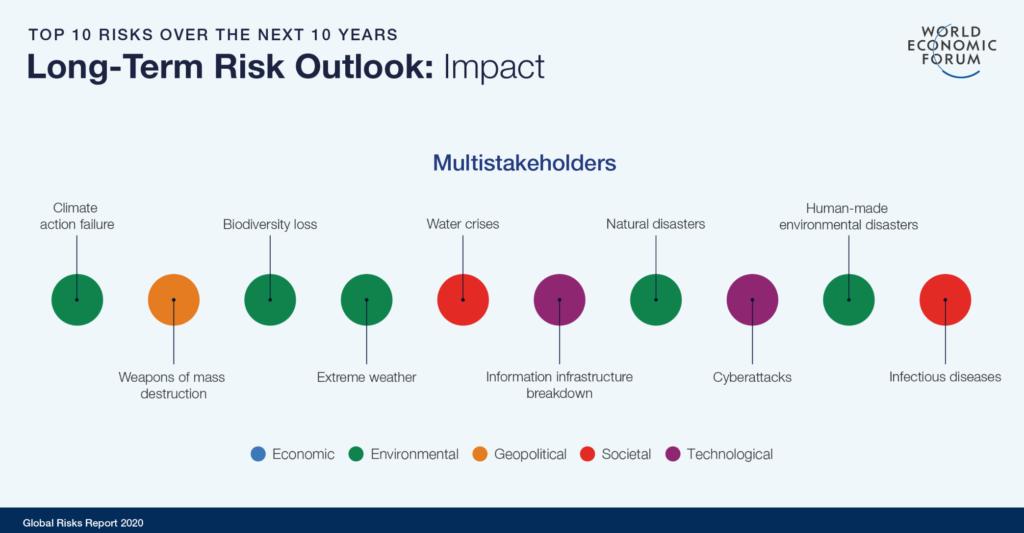 "Climate change is striking harder and more rapidly than many expected. The last five years are on track to be the warmest on record, natural disasters are becoming more intense and more frequent, and last year witnessed unprecedented extreme weather throughout the world," the report reads.
A clear indication that climate change is taking center stage in fears for future environmental, societal and economic stability, and hence giving an indication of where action by business and policy leaders is most needed. However, behind the apparent unanimity in identifying climate change as the major risk there hides a division in how different groups of respondents perceived the issue.
Business leaders lagging behind
By pooling the different categories of respondents, the Global Risks Report has also shown that different actors interpret the risks for 2020 differently. In fact, younger generations are the most concerned with the state of the planet, with 90% of respondents expressing the belief that "extreme heat waves", "destruction of ecosystems" and "health impacted by pollution" will be aggravated in 2020. In contrast to 76%, 77% and 67% of other generations.
Even more significantly, business leaders were lagging behind other respondents in their concern for climate risks. In fact,  among the survey's respondents, business leaders were the least likely to list environmental concerns among their top-10 risks, "suggesting a critical blind spot."
Another indication of this gap can be seen in a comparison between the Global Risks Report's priorities and those found in another influential Davos report: the Annual Global CEO Survey, conducted by consultancy PwC since 1998. The CEO Survey deals with the specific perspective of corporate leaders. Here, the main risk was regarded to be a fall in business growth with the top three risks to business in 2020 being overregulation, trade conflicts, and uncertain economic growth. Surprisingly, climate change fell outside the ranking of top ten global threats to business.
Different priorities need systems-level solutions
Looking at the difference between the two surveys reveals how businesses are inclined to focus on their short-term economic situation, whereas civil society and other experts in the Global Risk Report focus on longer-term social and environmental consequences. Something that is to be expected, but which when made explicit can help shape the way we address solutions to the risks we face.
One approach, such as the one adopted at Davos, involves identifying risks and then developing systems thinking approaches to the problems by understanding that we live in a hyper-connected world. Understanding that different actors will have different priorities allows businesses and policymakers to include all these into a systemic and managed approach.
Meetings such as the World Economic Forum in Davos provides leaders from academia, business, government and civil society systems to gather together to identify and commit to working on key global issues. 
---