During lockdown, many of the world's biggest and most vibrant cities came grinding to a halt. This came hand in hand with less pollution, offering a clear glimpse of what clean cities may look like in the future. However, many of the effects are already being reversed as the shifts in behaviour were not due to structural changes. Greening our cities so that they can become drivers of positive change, rather than sources of harmful emissions, is becoming a priority for policymakers across the globe.
As cities begin to re-open there has been a worrying return to emissions-intensive trends, and in some cases there has even been an increase in emissions from some sectors compared to pre-pandemic times. Numerous cities have seen a surge in the use of private cars as these are perceived as a safe means of transport that limits the possibility of infection. Data published by Apple Maps shows the change in routing requests since January 13, 2020. The trend indicates that searches for directions on maps for car travel have already risen significantly when compared to those for public transport.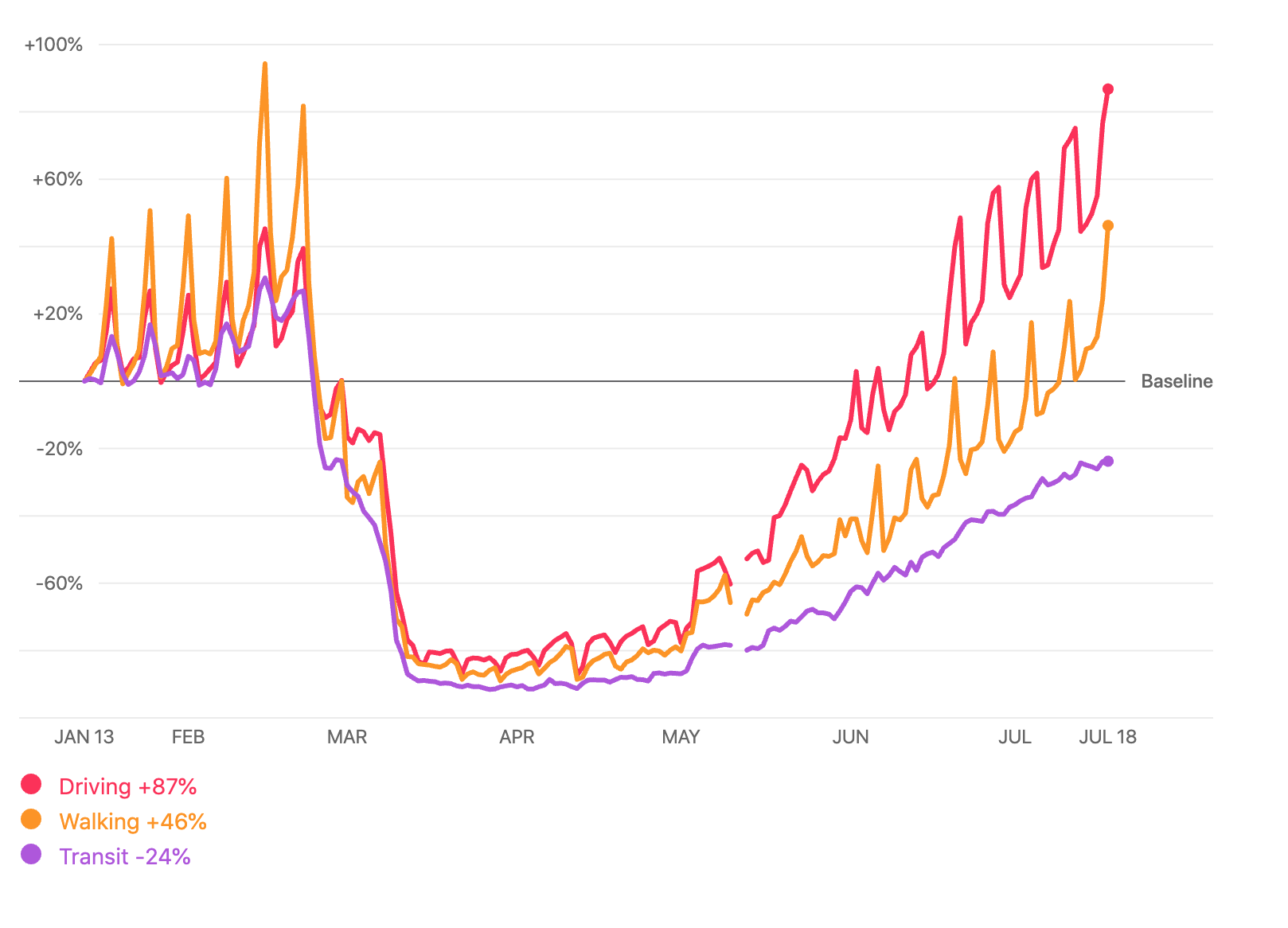 The transport sector
The slowdown in surface transport during the COVID-19 peak in April led to just under half of a 17% fall in CO2 emissions compared with global mean 2019 levels. This makes transport one of the single largest contributing sectors to emissions change during lockdown, providing a valuable lesson: the changes in policy forced by the pandemic had immediate and responsive effects on transport emissions so can these be replicated when implementing climate action? How can policymakers take advantage of the responsiveness of this sector in future efforts to curtail emissions?
Surface transport accounts for nearly half the decrease in emissions during confinement, and active travel (walking and cycling, including e-bikes) has attributes of social distancing that are likely to be desirable for some time and could help to cut back CO2 emissions and air pollution as confinement is eased
Although there is clear public support for policies that work to ensure air quality improvements, there is also a perception that private cars are the most COVID-safe transport option. "This is a historic moment when cities can change course", writes Janette Sadik-Khan, former transport commissioner for New York City in a report for the National Association of City Transportation Officials that aggregates and synthesizes emerging practices in transportation and street design in response to the COVID-19 pandemic. The report highlights ongoing efforts to re-organize streets so that they can confront the current crisis and support economic recovery whilst bolstering public transport.  
Overall ensuring that the transport system does not revert to its polluting ways will require government intervention, especially as fear of public transport could be pervasive and must be addressed with systemic changes and campaigns. "Political leaders need really strong messaging about the reality and safety of using public transport", explains Mike Lydon, of the urban planning firm Street Plans. "A lot of people assume it's a big risk to take public transport but maybe it's not as big a risk as they think."
Global Mayors and researchers take an active role
Mayors across the globe are increasingly at the forefront of adaptation and mitigation efforts. C40 Mayors in partcular have responded to COVID-19 reconstruction efforts by committing to a recovery that should "not be a return to 'business as usual' – because that is a world on track for 3°C or more of over-heating." This includes establishing a common framework that all C40 cities can adopt and involves accurate communication about the climate crisis in a post-COVID-19 world, as well as measures to influence stimulus packages and interventions aimed at a sustainable, low-carbon, inclusive and healthier economy for people and the planet.
The issue of reforming cities is more complicated than building a few bike lanes and should not go underestimated. For this very reason, a key to success involves uniting experts and policymakers so that the right measures can be identified and implemented. Filip Lefebre explains how access to information is essential during the CMCC Webinar Series on Urban Adaptation. He outlines how the VITO Urban Climate Service Center specialises in the delivery of data, tools and services to support urban areas in their ambition to become more climate-resilient with a particular focus on heat-related issues.
Another key aspect that is emerging in Urban Adaptation narratives is the need to implement nature-based solutions that can provide key benefits for resilience and serve as a foundation for sustainability. "Urban challenges are linked to governance, for example including nature-based solutions in the context of the city […] in this way nature is framed in a particular way when it is included in the governance and development of the city", explains Anne Jensen, Senior Researcher at Aarhus University and also a contributor to the CMCC Webinar series. 
Piero Pelizzaro, Chief Resilience Officer of the Municipality of Milan, is trying to implement nature-based solutions in the city of Milan and also offers insight as to the key requisites when planning a sustainable city: "We are now working on city resilience strategy […] this involves acquiring, elaborating and using local climatic data to implement adaptive solutions, promote and implement green in the city and promote resilient regeneration of public spaces."
---