Wednesday 11 December is International Mountain Day, a celebration that has taken place every 11th of December since 2003, so as to raise awareness on the importance of mountains and highlight the fragility of these areas due to climate change and over-exploitation. 
The world's mountains cover 25% of global land area; are home to 1 billion people and ¼ of all land animals and plants; as well as distributing over 70% of the world's fresh water, and in the process quenching the thirst of over half of humanity. For this reason, the conservation of our mountains is a key factor for sustainable development and a crucial part of Goal 15 of the SDGs: Life on Land. In fact, just as goal 15 suggests, mountain areas have a pivotal role to play with regards to life on land: mountain people are amongst the world's poorest and hungriest and the unprecedented changes occurring in these landscapes, such as glaciers and permafrost melting, are making local populations ever-more vulnerable.
What is more, as mountain glaciers continue to melt at unprecedented rates, downstream freshwater supplies are also feeling the brunt, meaning that the wellbeing of mountains doesn't just concern mountain people, but humanity and the global ecosystem as a whole.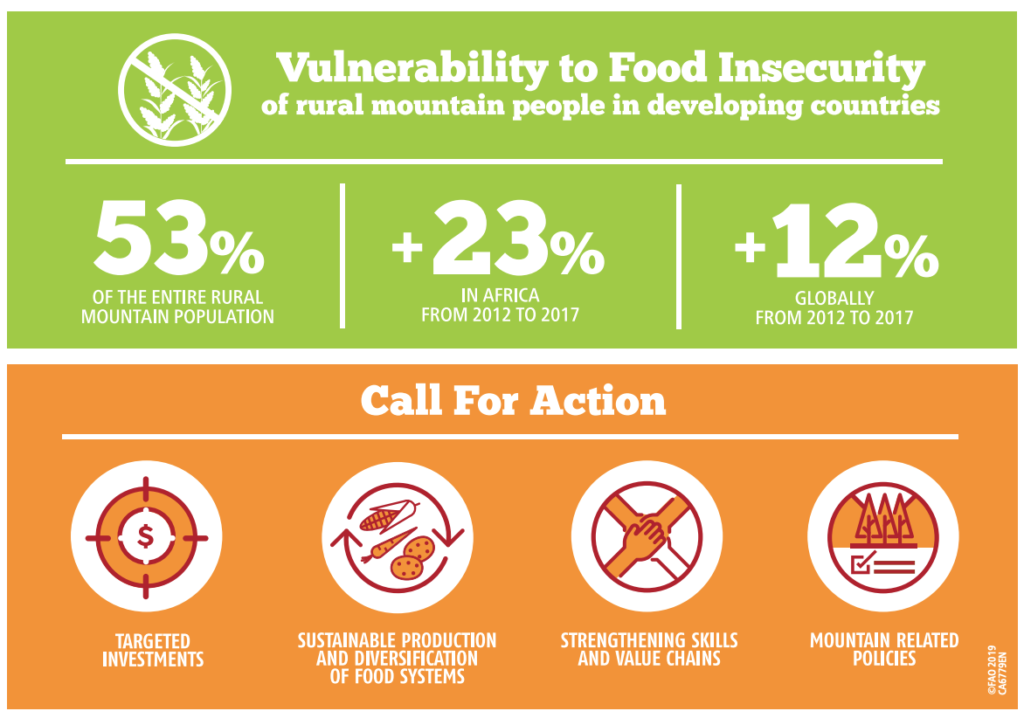 What is the International Mountain Day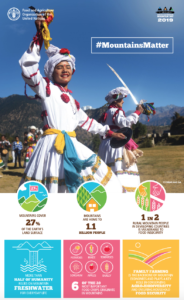 The International Mountain Day originates in 1992, with the adoption of Chapter 13 of Agenda 21, "Managing Fragile Ecosystems: Sustainable Mountain Development", at the UN Conference on Environment and Development. Since then, increased attention to the critical role that mountains play in our lives led the UN General Assembly to declare 2002 the UN International Year of Mountains. Since then every 11 December, from 2003 onwards, has been associated with "International Mountain Day", a celebration that is managed by The Food and Agriculture Organization of the United Nations (FAO).
A chance to celebrate the natural beauty, cultural diversity and sustainable development potential of the planet's highest lands. Particularly in recent years, awareness of the importance of mountains has grown exponentially; suffice to think of the recent 2019 Swiss elections, where mountains and their wellbeing took a central role in voter preferences or the influential UN study published in September 2019 on the wellbeing of the cryosphere. All of which has led to an inevitable focus on the wellbeing of mountains and the people and ecosystems that depend on them. 
Why mountains matter for the Youth
"Mountains matter for Youth" is the topic that has been ascribed to this year's International Mountain Day. It will draw on the enthusiasm for environmental issues demonstrated throughout 2019 by global youth climate movements, such as Friday's for Future, and will also be an occasion to educate the global youth on the role that mountains play in supporting billions of people up and downstream – by providing fresh water, clean energy, food, and recreation.
Mountains playing a role at the COP
Mountains are also taking on an important role at the COP 25. Stakeholders are joining hands in raising awareness about the plight of mountain ecosystems and communities with a series of dedicated events that are focused on mountain areas and promoting resilience. The Mountain Partnership is holding four events that address: "Nature-Based Solutions on the ground (SDG15): UN support to people and landscapes"; "Driving adaptation in mountains through community- and ecosystem-based innovation"; and "Building resilience of mountain communities: data and science for policy action".
Furthermore, there are other side events by the International Centre for Integrated Mountain Development (ICIMOD) about climate action in the Hindu Kush Himalaya, and an ICIMOD and Alpine Convention collaboration called "From Andes to the Alps and other mountains: Elevating regional cooperation on monitoring and climate change adaptation". 
A series of events that reflect the multi-faceted nature of mountains and how important they are for creating climate resilience and implementing sustainable development. Not only is it not too late to mitigate some of the more pernicious effects that climate change will have on mountain areas, but also a chance to harness and focus their potential as sources of education and inspiration in the fight against climate change.