2023 is now likely to be considered the hottest year on record, after an extreme summer of unprecedented high temperatures that led to widespread heatwaves, wildfires, and heavy rainfall, affecting various regions all over the world.
During the first half of 2023, a developing El Niño event combined with human-caused climate change has led to a surge in global temperatures, breaking numerous records.
As reported by Carbon Brief, June and July 2023 likely exceeded previous records by approximately 0.2°C and 0.3°C, respectively. Moreover, global temperatures have risen by about 1°C since 1970 and by 1.1°C to 1.3°C since the mid-1800s.
In addition to global surface temperatures, the oceans have been unusually warm in the past few months, with sea surface temperatures maintaining record levels since mid-March.
According to the World Meteorological Organization (WMO), the peak of temperature anomalies was reached in July, when global average sea surface temperatures were 0.51°C above the 1991-2020 average. Notably, the most evident anomaly in July 2023 was registered in the North Atlantic with temperatures 1.05°C above average.
Marine heatwaves (MHWs) originated in various regions of the planet, from Greenland and the Labrador Sea, to the Caribbean basin and across the Mediterranean Sea.
Global average sea surface temperatures typically peak in March.
Yet, in 2023, @CopernicusECMWF and @CopernicusEU data showed they reached a record high of 20.96°C on 31 July 🌡️
This is the largest temperature anomaly for any July on record. #StateofClimate #ClimateChange pic.twitter.com/a8whWWIdS2

— World Meteorological Organization (@WMO) August 29, 2023
As highlighted by the results of Copernicus' Climate Change Service, the occurrence of marine heatwaves in June could be attributed to a blend of unusual short-term atmospheric circulation and possible longer-term variability in the Atlantic, coupled with the ocean's warming due to climate change. On a global scale, the average sea surface temperature has risen and maintains an upward trajectory from the pre-industrial age. On the other hand, about 90% of the additional heat linked to global warming has been absorbed by the oceans.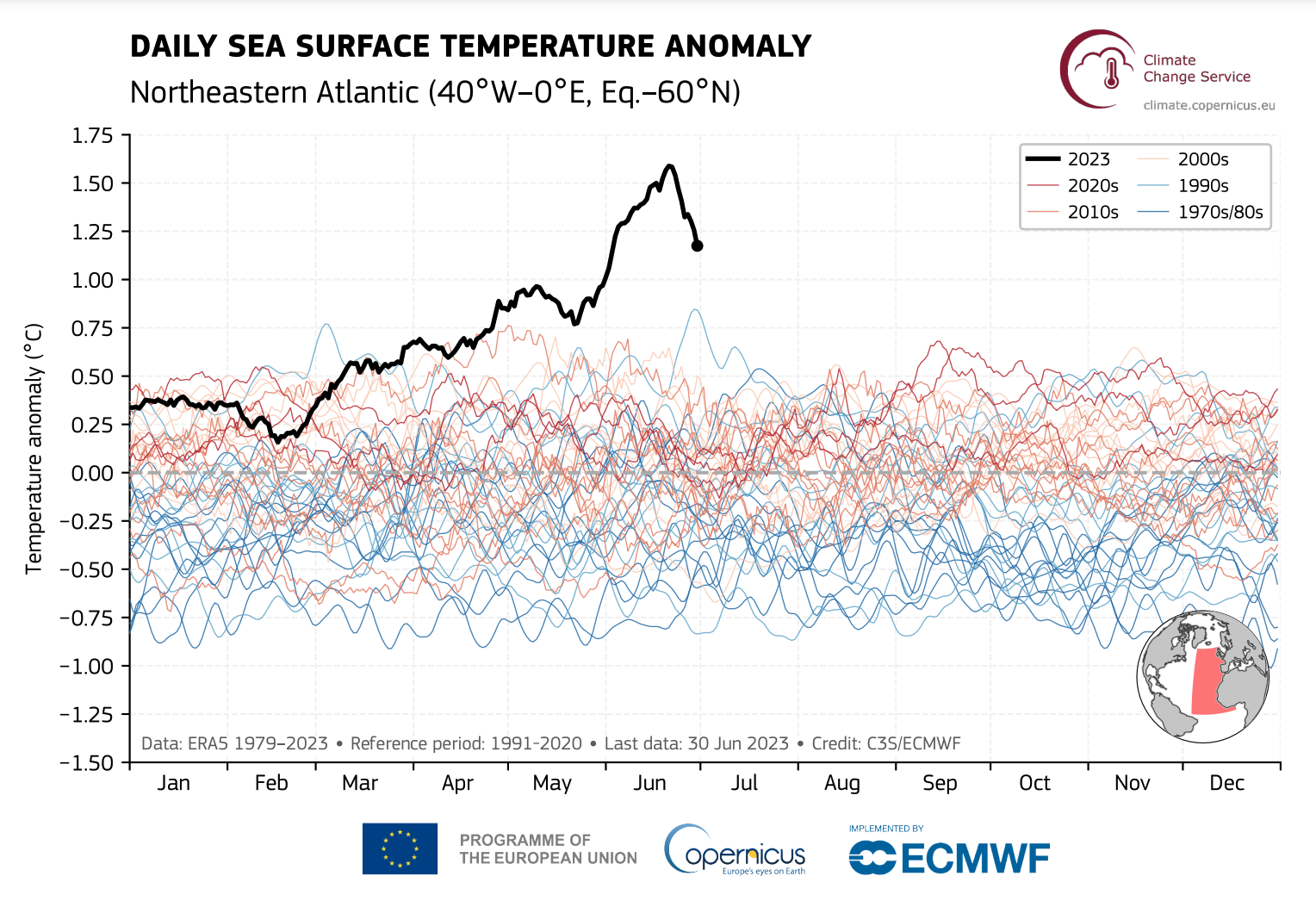 According to data gathered by the US National Oceanic and Atmospheric Administration (NOAA), and as reported by Bloomberg, in July 2023 oceans were warmer than they had ever been since data started being collected, with about 44% of global oceans experiencing extreme temperatures.
Breaking records in the Mediterranean and beyond
In July, 2023, observations by the CMCC revealed significantly high temperatures in the Mediterranean Sea, with values exceeding the average temperatures for the month of July by 5-6°C. Measures showed that 24 July was the peak of temperature for the marine heatwave in the Mediterranean, with several regions of the basin exceeding the temperature anomaly threshold of 5°C or more.
The first 3 weeks of July have been the warmest three-week period on record, and the month is on track to be the hottest July and the hottest month on record.

🗣️ #EarlyWarningsForAll #StateOfClimate
📷 European Union, Copernicus Marine Service data pic.twitter.com/qV73hANGvc

— World Meteorological Organization (@WMO) July 28, 2023
MHWs occur when ocean temperatures cross an extreme seasonally-varying threshold for more than 5 days in a row. Last year, a record-breaking marine heatwave in the Mediterranean Sea affected the Ligurian Sea for 3 weeks, later hitting the Gulf of Taranto with greater intensity, reaching nearly 5°C above average.
"The summer of 2022 was record-breaking in the sense that it displayed the longest lasting widespread conditions, that is, the MHW consistently covered large parts of the Mediterranean Sea for the whole summer, more so than in any other year," says CMCC scientist Ronan McAdam. "This year, we see that the MHW grew to a similar extent only at the end of July. However, for one week, over 80% of the basin was covered in a MHW, which was unprecedented. So, last year's MHW was more persistent throughout the whole summer but this year's it had the highest instantaneous coverage in the basin."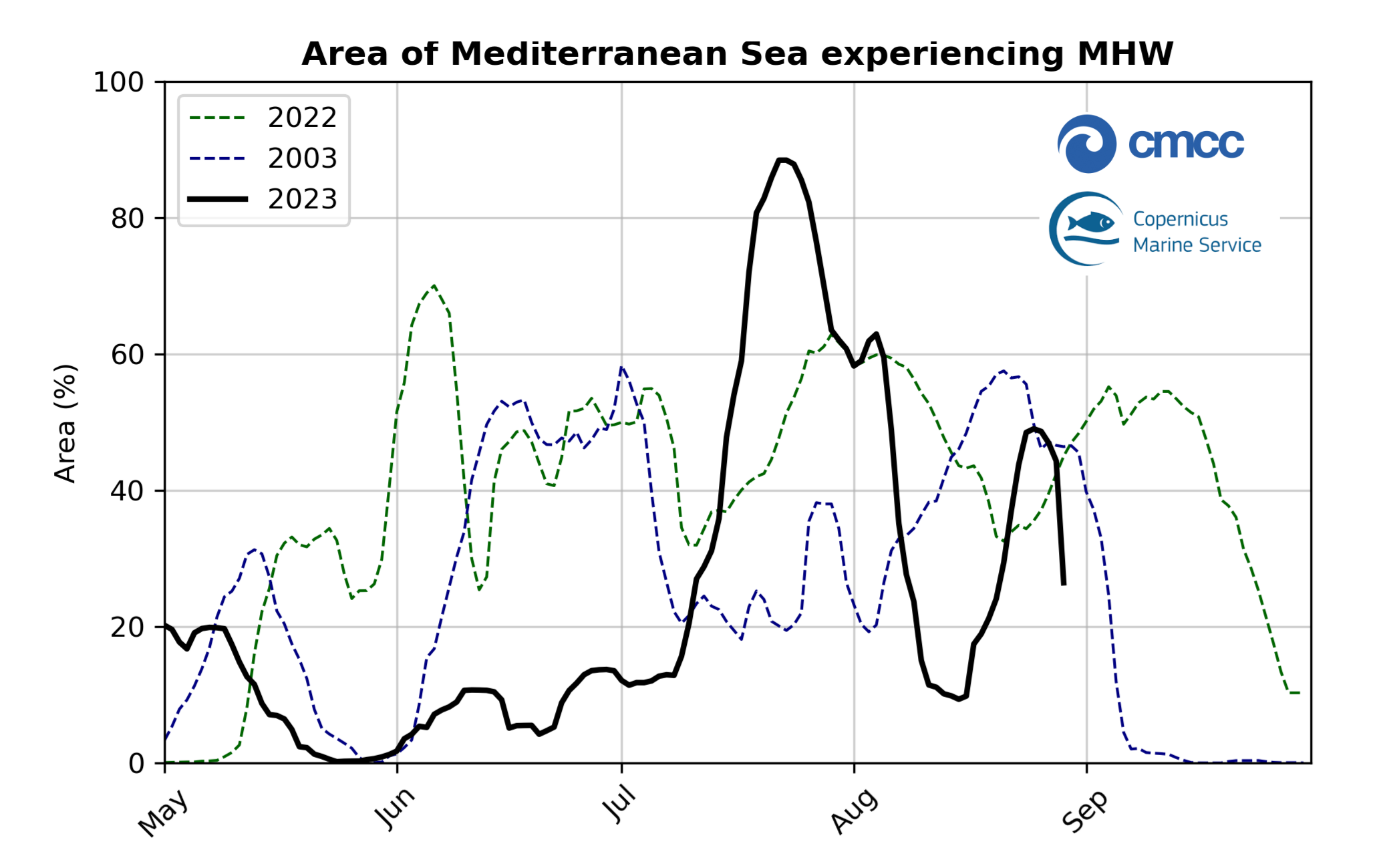 According to the WMO, the extremes in ocean heat level were triggered by the start of an El Niño event, which is expected to lead to higher temperatures, increased marine heatwaves and coral bleaching. It is also expected that the biggest impact on temperature caused by El Niño will be visible in 2024.
"As we continue to see increases in concentrations of greenhouse gases in the atmosphere, this long-term warming will persist and temperature records will continue to be broken."

Chris Hewitt, WMO Director of Climate Services
According to the European Space Agency (ESA), at the end of June the waters around the United Kingdom and Ireland witnessed some of the most severe marine heat increases globally, with satellite measurements indicating heavily above-average water temperatures for the season.
Satellite data revealed that the North Sea's surface temperature was over 5°C higher than the seasonal average for June, while the Baltic Sea experienced even more extreme anomalies, with temperatures surpassing 8°C above the seasonal average.
As reported by the Guardian, this exceptional heatwave phenomenon off the east coast of the UK and off the northwest coast of Ireland poses a serious threat to marine species.
"While marine heatwaves are found in warmer seas like the Mediterranean, such anomalous temperatures in this part of the north Atlantic are unheard of," said Daniela Schmidt, a professor of earth sciences at the University of Bristol, when talking to The Guardian. "They have been linked to less dust from the Sahara but also the North Atlantic climate variability, which will need further understanding to unravel."
Currently, a severe marine heatwave is forecasted for Australia's south-east, with the Tasman Sea expected to experience temperatures well above average over next spring and summer. This could lead to significant losses in fishing and aquaculture industries. As per The Guardian, in the region there is a potential increase of at least 2.5°C in the sea off Tasmania and Victoria, exacerbating the warming trend in a climate change hotspot where waters warm four times faster than the global average.
According to the Guardian, recent studies reveal that New Zealand's coastal waters experienced marine heatwave conditions for an average of 208 days over the year to April 2023, with some southern regions facing these conditions for over 270 days. The Bay of Plenty in the northern part of the island even saw a continuous year-long heatwave. The lack of recovery time between heatwaves has led to concerns about ecosystems approaching tipping points, with lasting effects on marine life and industries. As New Zealand grapples with these impacts, the situation offers a glimpse into the potential future of oceans worldwide, as rising temperatures project similar conditions and impacts on marine species.
The global average temperature for July 2023 is confirmed to be the highest on record for any month. And global average sea surface temperatures were 0.51°C above the 1991-2020 average.

🔗 https://t.co/O09yphDLRl
🗣️ #EarlyWarningsForAll #StateOfClimate pic.twitter.com/nkeZ4xIL8M

— World Meteorological Organization (@WMO) August 8, 2023
What are the effects?
Marine heatwaves can have significant impacts. For example, the 2015-16 "blob" that spanned the northern Pacific Ocean covering around 4 million square kilometers caused extensive repercussions. As noted by Carbon Brief, this event led to disruptions in marine ecosystems due to increased temperatures, resulting in reduced primary production, the movement of fish and organisms in search of cooler habitats, and the proliferation of harmful algal blooms.
The ecological consequences were dire, leading to mass die-offs of fish, mussels, and crabs. Additionally, the event caused disruptions in whale behavior, pushing them closer to shore for food and leading to increased entanglement in crab fishing nets. Notably, a single coral bleaching event in 2016 resulted in the death of 30% of corals in the Great Barrier Reef. Marine heatwaves also carry substantial economic costs, with losses exceeding $800 million, impacting sectors like tourism and fishing.
The power of prediction
To face and anticipate such events, scientists employ seasonal forecasting, provided by various forecasting centers worldwide, to predict global atmospheric and oceanic phenomena, including instances of unusually warm ocean temperatures and their far-reaching effects.
According to Carbon Brief, marine heatwaves can have fatal consequences, yet forecasting ocean heatwaves lags behind predictions for land-based extremes. Developing accurate marine heatwave forecast systems could enhance marine ecosystem resilience, offering opportunities like safeguarding fisheries from overfishing during reduced productivity caused by high ocean temperatures.
Links between sea level pressure and high temperatures in the North Atlantic have been suggested during last summer, as reported by Copernicus. "We are currently researching the atmospheric conditions in the run-up to next year's marine heatwaves," says McAdam. "In theory, we can estimate atmospheric variables like the sea level pressure a few days in advance, therefore providing short-term predictability for MHWs. We would also like to know how these atmospheric circulation patterns arise over the Mediterranean, and what makes them likely to occur in a particular summer. Such information could potentially extend the time range of predictability."
Scientific evidence suggests that oncoming marine heatwaves can be predicted between one and 12 months before they hit, as mentioned by Carbon Brief.
The NOAA Physical Sciences Laboratory (PSL) conducts research to advance understanding of weather and climate extremes, including a focus on marine heatwaves, aiming to characterize, predict, and mitigate their impacts.
They maintain an updated web page dedicated to marine heatwaves, with current ocean maps and observations, forecasts, interactive tools, useful links, and a monthly MHWs forecast report spanning a period of one year.
According to the latest PSL report, approximately 48% of the global ocean is currently experiencing heatwaves, with widespread occurrences in various regions. Moreover, NOAA's forecasts suggest that the MHWs coverage will continue to remain near 50% of the global oceans through February of 2024. These conditions will be evident in many regions, including Eastern Tropical Pacific, North Pacific, Arctic, Southwest Pacific, North Atlantic, Gulf of Mexico and Caribbean Sea, and Indian Ocean, each with varying degrees of confidence in predictions.
"No doubt, we're in hot water. In our 32-year record, we have never seen such widespread marine heatwave conditions. Normally we might expect only about 10% of the world's oceans to be 'hot enough' to be considered a marine heatwave, so it's remarkable to reach 40% or 50%, even with long-term warming. In a typical year, extreme ocean temperatures like these could mean stronger hurricanes with more rapid intensification"

Dillon Amaya, a PSL research scientist and a co-lead of NOAA's June 2023 marine heatwave experimental outlook
"Forecasting on short-term (i.e. a few days) and long-term (seasonal and beyond) could provide marine industries and activities more options to prepare for and mitigate against the destructive impacts of MHWs," says McAdam. "We are currently exploring all options to improve forecast skill and usability, from cutting-edge machine learning methods to targeting the subsurface ocean, where impacts are greater."
More information: