In 1907 Leo Baekeland invented Bakelite, the first fully synthetic and mass-produced plastic. From then on this revolutionary material has continued to play an ever-larger role in our daily lives. Plastics have challenged and conquered the supremacy of a wide range of traditional materials, becoming ubiquitous in modern-day society. However, in recent times environmental concerns are starting to make the future of plastics ever more uncertain.  
Plastics have not always been associated with pollution and environmental harm. They proved to be a lifesaver for a long list of materials that were being put under increasing pressure due to growing demand. Ivory from elephants, shell from the hawksbill turtle, and even horn from cattle were all natural plastics that were under threat and thrown a lifeline with the invention of plastic.
Particularly in the post-WWII era, plastics were seen as a semi-utopian material: an infinite, inexpensive and sanitary substance that could be moulded into any given shape depending on requirements. The fact that plastics are created following four basic steps: acquirement of raw material, synthesizing a basic polymer, compounding the polymer into a usable fraction, and finally, moulding or shaping the plastic meant they presented virtually endless possibilities.
Yet problems were already on the horizon. The issue of pollution and plastic waste showing up in our air, oceans, rivers and mountains became irrefutable by the 70s and 80s and led governments across the world to begin passing legislation on production, use and disposal.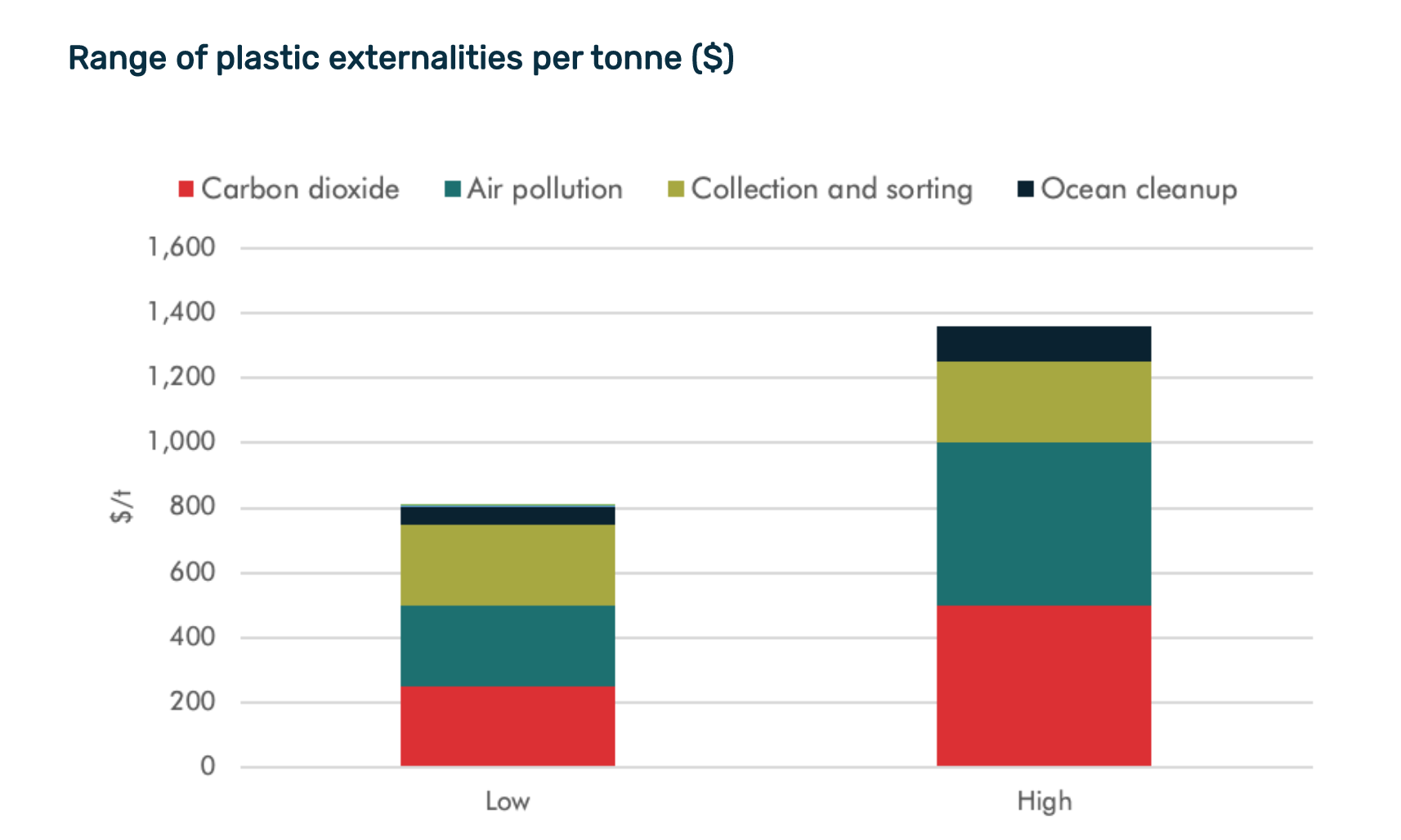 Source: Breaking the Plastic Wave report (EPA, CREA, WHO, UNEP, Carbon Tracker estimates)

Plastic production continues to grow
In 2018, approximately 359 million metric tons of plastics were produced worldwide. The International Energy Agency (IEA) also predicts that plastic production will continue to grow in the next twenty years, indicating that it could reach 540 million metric tonnes by 2040. Similarly, large oil producers also believe that the production of plastics will form an ever larger part of their business.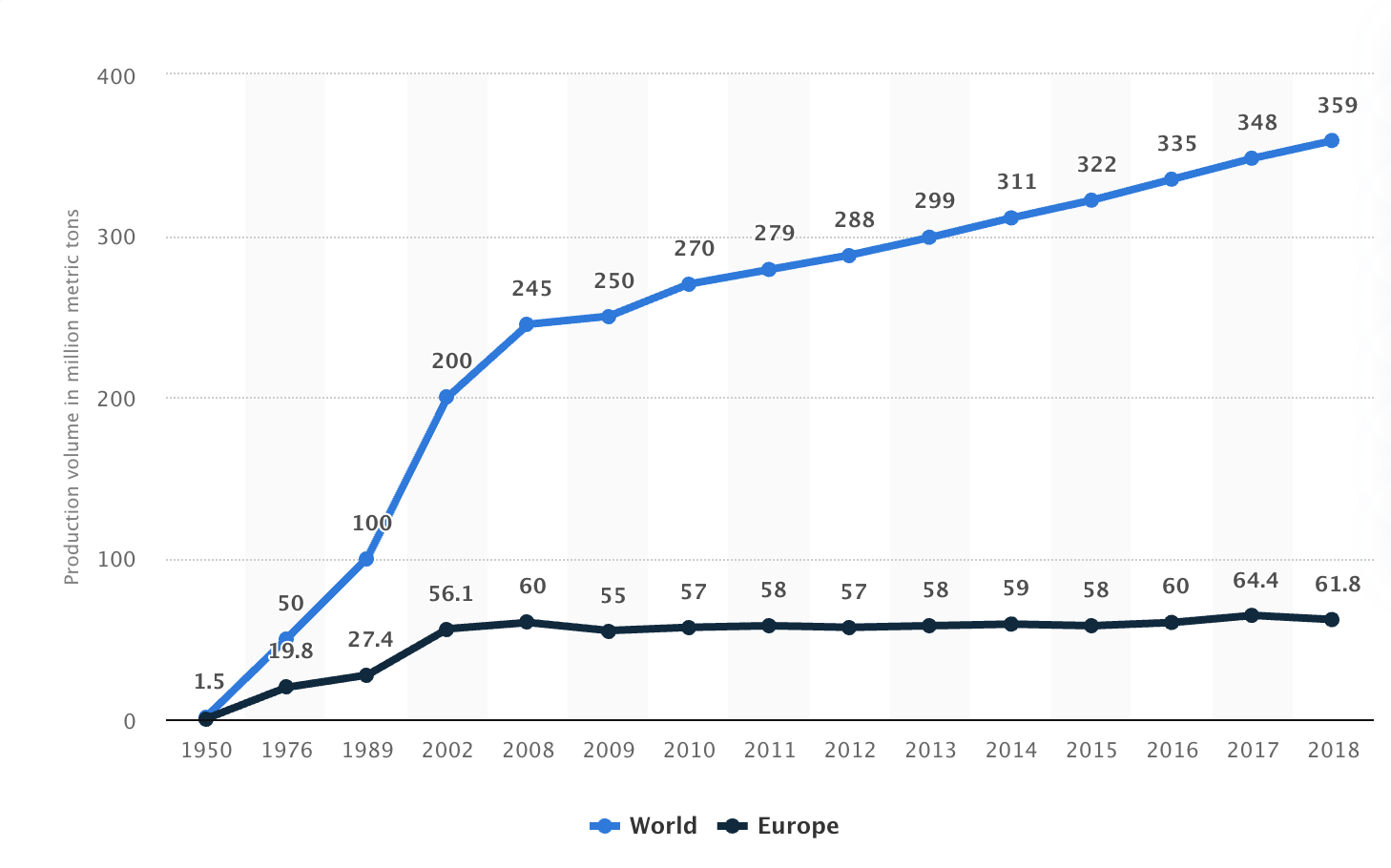 Hand in hand with the growth in demand and supply has been an insatiable increase in the market value of plastics, which is forecasted to grow from 523 billion U.S. dollars in 2018 to more than 750 billion U.S. dollars in 2027.
Oil producers betting big on plastics
Since COVID-19, global demand for gasoline and jet fuel has taken a strong hit. This fall in demand is expected to continue as governments attempt to regulate CO2 emissions, invest in renewables and seize this opportunity to make true to environmental commitments.
In light of this trend, the oil industry is starting to change its focus and predicts a bright future for the petrochemical industry due to the expectation that there will be an ever-increasing demand for plastics. Companies such as EXXon Mobile and Shell are investing millions in increasing their productive capacities, claiming that the plastics industry will maintain the rate of growth it has shown since 2010, namely 4%. Growth at this rate would mean doubling of demand in as little as 18 to 24 years. 
Currently, only around 9% of extracted oil is used to make plastics. However, based on growth projections the IEA expects plastics to account for around 45% of total oil demand growth, becoming the largest single driver. According to research by Carbon Tracker, ExxonMobil has invested 20 billion USD in new facilities in the U.S. and the industry as a whole is forecasted to spend 400 billion USD on new plants and equipment, resulting in 80 megatonnes of new plastic production capacity.
The future of plastics is uncertain
Yet not all is as certain as it seems. The petrochemical industry is already facing overcapacity problems as many countries are saturated with plastics and are cutting down on their consumption. Another major issue is the unwillingness of countries to continue acting as dumping grounds for plastic waste.
It is simply delusional for the plastics industry to imagine that it can double its carbon emissions at the same time as the rest of the world is trying to cut them to zero

Kingsmill Bond, Energy Strategist at Carbon Tracker 
A recent investigation by the New York Times reveals how the world's foremost chemical makers and fossil fuel companies are lobbying to ensure that US trade negotiations with Kenya make the African nation revert its strict limits on plastics and return to importing plastic waste. "We anticipate that Kenya could serve in the future as a hub for supplying U.S.-made chemicals and plastics to other markets in Africa through this trade agreement," stated Ed Brzytwa, the director of international trade for the American Chemistry Council, in an April 28 letter to the Office of the United States Trade Representative.
In 2019 Kenya was one of over 180 countries that opted to sign the Basel Convention Plastic Waste Amendments in an effort to further legislate and curb plastic waste imports, something that the chemical industry actively worked against. The restrictions included putting a complete ban on the US, which hasn't ratified the Basel Convention, from sending waste to Basel member nations.
In contrast to the oil industry's rosy growth predictions, a Carbon Tracker report highlights how increasing government regulations and new technologies that boost recycling and reduce plastic use will actually lead to plastics production peaking in 2027. The report states that the transition from a linear model of plastic production and consumption will be replaced by a circular approach as governments act to reach the climate targets set out in the Paris Agreement.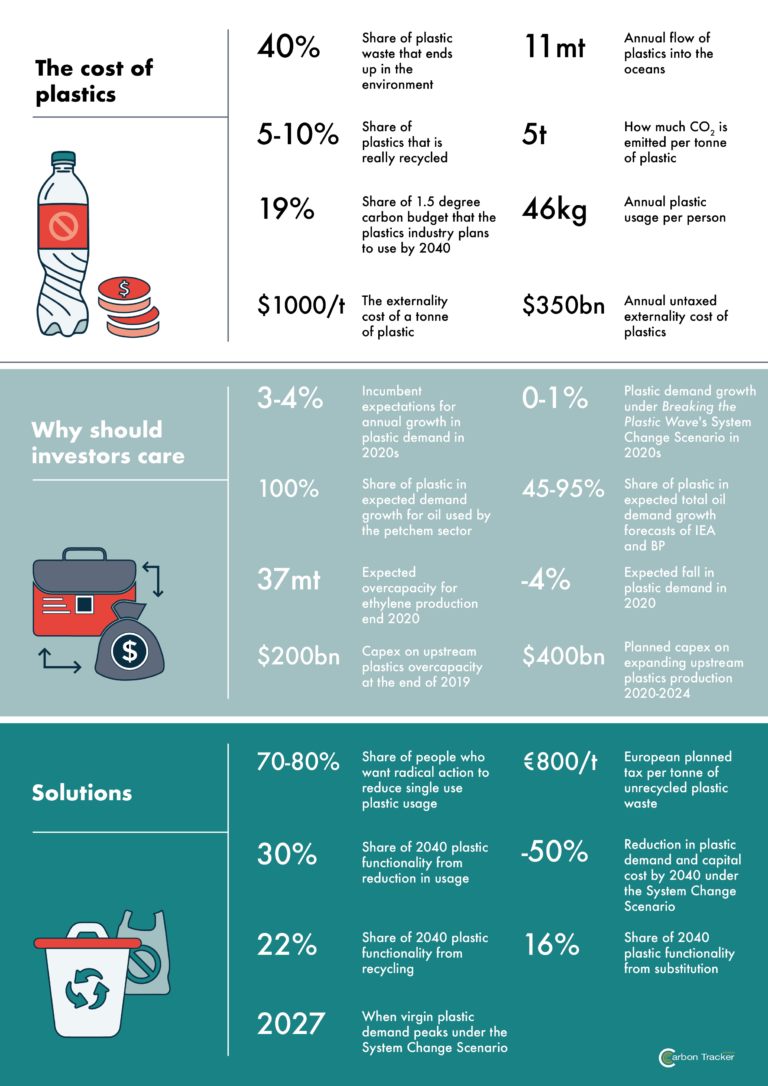 All about legislation
Governments are using five key tools to regulate plastics: taxation, design rules, bans, targets, and infrastructure. Combined with a 4% drop in demand for plastics in 2020, due to COVID-19, policymakers now have more manoeuvring space than ever before. 
Some of the most recent and noteworthy examples include the EU's July 2020 proposed 800 trillion euro tax on unrecycled waste plastic and China's comparable regulatory push which has included banning certain types of plastics. Not to mention China's decision to close down a significant part of its industry for importing and processing plastic waste – which was the largest in the world.
As governments act, major companies are put under pressure. In 2019 a list of large multinational corporations such as Coca-Cola, Unilever, Nestlé and Carrefour pledged to disclose their annual plastic packaging volumes in a shed water moment for transparency around the use of plastics.
"Remove the plastic pillar holding up the future of the oil industry, and the whole narrative of rising oil demand collapses", claims Kingsmill Bond, Carbon Tracker Energy Strategist and lead author of the Breaking the Plastic's Wave report.
As countries try to curb their CO2 emissions plastics will inevitably take a hit. When plastics are produced they release CO2 throughout their value chain: from the extraction of oil and manufacturing to when they are burnt, landfilled or recycled. Research even indicates that plastics release about twice as much CO2 as producing a tonne of oil.
"It is simply delusional for the plastics industry to imagine that it can double its carbon emissions at the same time as the rest of the world is trying to cut them to zero," concludes Kingsmill Bond.